Indigenous people and water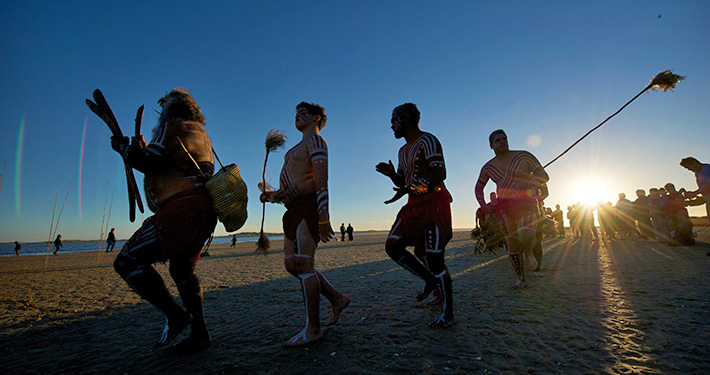 Water is intrinsically linked to the cultural and spiritual identity of Aboriginal people. The land and water forms an integral part who Aboriginal people are - and they, in turn, form a part of the land and waters.
Healthy waterways enable Aboriginal communities to continue their cultural and economic activities, including fishing, hunting, practising ceremonies, following songlines, and harvesting medicinal plants and herbs.
An imbalance between the amount of water traded off for human use and the amount of water allocated to protect the ecology of water, as well as dry riverbeds and pollution, disrupts the health of our water systems, and prevent the continued practice of these cultural traditions.
Aboriginal people have a strong spiritual obligation to care for country. When the country is suffering, the people's cultural, spiritual and economic health suffers too.
Aboriginal water rights
Historically, Indigenous peoples' rights to water have largely been excluded from Australia's complex water planning and management policies and programs.
Although the Native Title Act 1993 (Cth) includes water rights as a part of native title rights, only rights to use water for domestic and personal purposes have been recognised by the courts. The Native Title Act 1993 (Cth) does not provide for a right to negotiate over water.
In 2004, the National Water Initiative was the first instance in which Indigenous rights to water had been formally recognised in national water policy.
In 2009, Australia endorsed the United Nations Declaration on the Rights of Indigenous Peoples, which universally acknowledges Indigenous peoples' rights, including the following rights to water:
the right to maintain their distinctive spiritual connection to water
the right to access the resources required to maintain cultural heritage and undertake traditional practices
the right to determine priorities and strategies for the development or use of their resources
the right to conserve and protect the environment and the productive capacity of their lands, and
the right to improve their economic and social conditions.
More information on Aboriginal water rights can be found at: